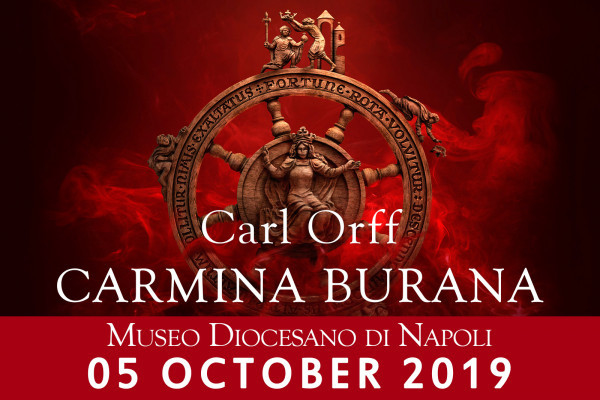 Carl Orff
CARMINA BURANA
Rossana Cardia, Soprano
Enrico Torre, Countertenor
Alessio Quaresima Escobar, Bass
Diego Moccia, Piano
Alessandro Romagnoli, Piano
Opera in Roma Percussion's Ensemble
Nuova Arcadia Choir
Pier Giorgio Dionisi,Conductor
I Solisti della Rome Symphony Orchestra
Pier Giorgio Dionisi, Direttore
I SOLISTI DELLA ROME SYMPHONY ORCHESTRA
COMPLESSO MONUMENTALE DONNA REGINA
OLTRE 100 PERSONE SUL PALCO
UNICA DATA ITALIANA
Further information
In programma quest'estate nella splendida cornice del Complesso Monumentale Donnaregina all'interno del Museo Diocesano di Napoli ci saranno i Carmina Burana, una raccolta di canti religiosi e profani scoperta nell'abbazia di Benediktbeuern e composti dai chierici girovaghi, i cosiddetti goliardi o clerici vagantes dal XII al XIII secolo. Un'occasione unica in cui l'unione di coro, pianoforti, percussioni e cantanti solisti, cento persone sul palco, tracciano un ponte tra storia e tradizione.
------------------------------------------------------------------------------------------
Scheduled this summer in the splendid setting of the Complesso Monumentale Donnaregina inside the Museo Diocesano di Napoli there will be the Carmina Burana, a collection of religious and secular songs discovered in the Benediktbeuern Abbey and composed by itinerant clerics, the so-called goliards or clerical vagantes, from the 12th to the 13th century. A unique occasion in which the union of choir, pianos, percussion and solo singers, one hundred people on stage, form a bridge between history and tradition.
More offers from this partner