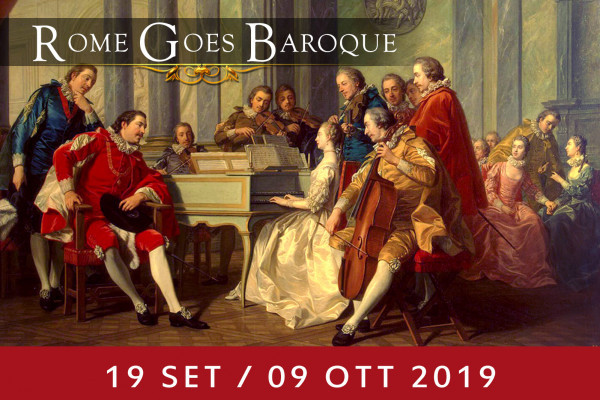 GIORGIA CINCIRIPI, soprano
GIORGIO MATTEOLI, recorder
LUCA AMBROSIO, harpsichord
In the heart of Rome, in the beautiful Biblioteca Angelica, you can attend two splendid and suggestive chamber concerts, exceptionally performed on copies of original instruments. The chosen pieces come from the brilliant minds of composers such as Vivaldi, Haendel and Bach, who through their works, their style, their students, have forever marked the history of European music. A journey through their sacred compositions, deeply inspired and masterfully conceived and created, performed by recorder, harpsichord and Soprano.
GIORGIA CINCIRIPI, soprano
GIORGIO MATTEOLI, recorder
LUCA AMBROSIO, harpsichord
Duration
60 Minutes
Languages
English, Italian
Important information

Biblioteca Angelica
Piazza di S. Agostino 8 - ROME
Further information
19 SEPTEMBER h 08.00 pm
Recorder - harpsichord duo
"Splendors of the Baroque"
Haendel
sonata in Fa maggior per flauto e continuo
D. Paradisi
Toccata per cembalo solo
G. Ph. Telemann
Fantasia per flauto dolce solo
W. Gluck
Danza degli Spiriti beati da "Orfeo ed Euridice"
G.Fr Haendel
Passacaglia in sol minore per cembalo solo
A. Vivaldi /Chedeville
Sonata dalla raccolta "Il Pastor fido"
09 OCTOBER h 08.00 pm
Trio Soprano – recorder - harpsichord
Mottetti ed arie sacre del Barocco Europeo
D. Buxtehude
Mottetto "Singet dem Herrn"
A. Vivaldi
Aria "Domine Deus" dal "Gloria"
J.S. Bach
"Aria" dalla terza Suite
Corale "Gesù Gioia" dalla cantata BWV 147
"Arioso" dalla cantata 156
A. Marcello
Concerto per oboe ed archi (trascrizione per flauto dolce e cembalo)
G.Fr. Haendel
Tre arie dalle Neun Deutschen Arien (HWV 202-210)
Aria "Lascia ch'io pianga" dall'Opera "Rinaldo"
More offers from this partner